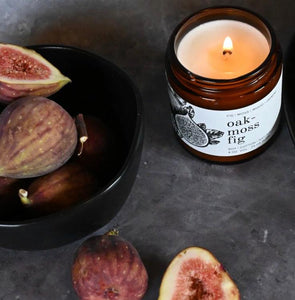 Our Oakmoss Fig is a perfect floral scent, heavy in jasmine, wood, and fig notes. 
Fig is part of the fruity notes, that when combined with woody notes makes a complex, yet clean scent. The fresh oakey scent lasts with hints of fresh jasmine coming through the mossy wood scent. It really does remind us of a wet, clean forest floor, with dry, earthy, green, and bark-like qualities. Truly t
he perfect combination of fruity and woodsy scents to welcome your nose!